Abstract Paintings & Artworks7822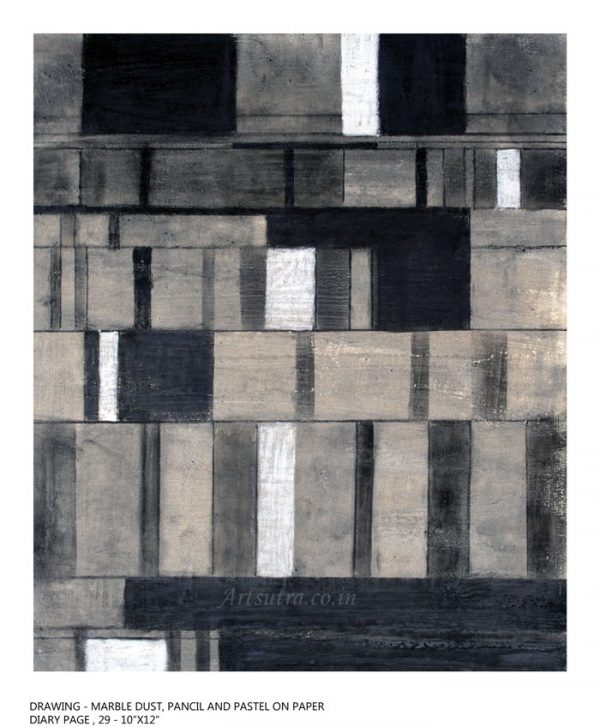 Diary Page 29
₹20,000.00
Marble dust, pencil, and pastel on paper (without frame) 10 x 12 inch
1 in stock
Description
Additional information
ARTIST
Reviews (0)
Store Polices
Inquiries
Description
Diary pages- 01 to 32, it is a series. This work is my diary, it is all my random thoughts that come through random observation of the city, modernization of the city, and expansion of the city.  In this work, I note my observation in visual language.
I am enjoying the fundamentals of visual art as an engineer but Actually so far from an engineering drawing. Forms are express my calculation and line are express partitions between two things or thoughts. color are express my feelings about a particular space or memory and tones are express my time or motion which is my journey. in this series, I am talking about Vadodara. which is my favorite city in Gujarat and where I learned the concept of visual art.
Additional information
| | |
| --- | --- |
| Weight | 0.05 kg |
| Dimensions | 25.4 x 30.48 cm |
| Time Required to Ship(in days) | 10 |
| Which medium is used? | Mix-media on paper |
IH Ravindra
IH Ravindra, an artist from Vadodara, completed a master's in fine arts from M S University Vadodara in 2014. I have taken participation in many exhibitions,  solo and group as well and done many workshops and camps as below.
AWARDS
Prafulla dahanukar art foundation, painting award. Mumbai – 2018
Zarana foundation painting award, Bhavnagar – 2004
CAMP & WORKSHOPS
National level, Painting camp, Jaleshwar, Odisha. 2015.
National level, Painting camp, Saputara, Gujarat. 2014.
National level, Printmaking workshop, collage of art, Delhi, 2012.
State-level, Photography camp, Mount Abu, Rajasthan, 2012.
State-level, Landscape Painting camp, Kevdiya colony, Gujarat, 2011.
State-level, Portrait Painting camp, Ahmadabad, Gujarat, 2010.
SOLO EXHIBITIONS
At "Kala vithi" Bagore ki haveli, transformation show, September 2018
GROUP EXHIBITIONS
At the Museum of Goa, affordable art fest, Goa December 2017.
At All India fine arts & craft society, 90th annual art exhibition, Delhi. December 2017.
At Bindas artist group, international online printmaking exhibition. September 2017.
At Ahad museum, group show Dharohar, Udaipur, April 2017.
At lalitkalaka academy, 19th Kala Mela, Jaipur, Udaipur, November 2016.
At Abir charitable trust, group show, Ahmedabad, October 2016.
At art mart gallery, international art festival, Khajuraho, February 2016.
At gufa gallery, an anthology on the Annexe group show, Ahmedabad, February 2016.
At Kala vithi, five young artists group show, Udaipur, September 2015.
At Art & mart gallery, international art festival, Khajuraho, February 2015.
At Surya art Gallery, Saputara Artists village, December 2014.
At Gymkhana & Saptak Godhra, Art Festival, August 2014.
At Faculty of a fine art gallery, MSU Baroda, February 2014.
At C.N.Collage of arts, Ahmedabad, October 2013.
At Faculty of a fine art gallery, MSU Baroda, January 2013.
At Faculty of a fine art gallery, MSU Baroda, December 2012.
At Faculty of a fine art gallery, MSU Baroda, January 2012.
At Lalitkala Academy, Ahmedabad, February 2010.
Cancellation / Return / Exchange Policy
Cancellation Policy
You can raise a cancellation request for your order within 2 hours of placing your order. We would not be able to cater to cancellation request raised post 2 hours of ordering. In exceptional cases where we have not started the work on your artwork, we might still cancel your order on request beyond 2 hours. Please contact us in this case.
General Returns Policy
Paintings/any arts are returnable within the applicable return window if you've received them in a condition that is physically damaged, has missing parts or accessories, defective or different from their description on the product detail page on artsutra.co.in
If you report an issue at artist@artsutra.co.in a resolution will be provided based on the actual evaluation report.
Return will be processed only if:
it is determined that the Painting/any art was not damaged while in your possession;
the Painting/any art is not different from what was shipped to you;
the Painting/any art is returned in original condition only.
Painting/any art may not be eligible for return in some cases, including cases of buyer's remorse such as different colours shades and tones of painting ordered or different painting ordered.
Painting/any art marked as "non-returnable" on the product detail page cannot be returned.
Additional information is not required to return an eligible order unless otherwise noted in the category specific policy.
Note: If you've received a non-returnable painting/ any art in a damaged/defective condition, you can contact us within 24 hours from the delivery of the painting/any art.
Seller Return Policy
you are ordering through our website artsutra.co.in, artist that fulfill and ship its own inventory (also called a seller), In case of return, you need to update within 24 hours after receipt of the delivery. your return is sent back to the seller instead of Artsutra Creations LLP.
Sellers must either provide a return address within the India, provide a prepaid return label, or offer a full refund without requesting the item be returned. If a seller does not offer these methods to return your items, you may file an A-to-z Guarantee claim to seek help with your return.
General Inquiries
There are no inquiries yet.