Figurative, People, Human5350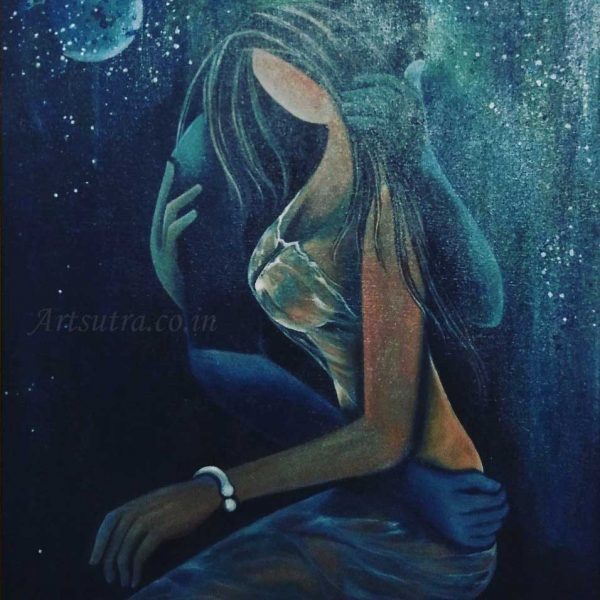 Moments of eternity – The Nightfall
₹24,300.00
Acrylic on canvas (without frame) 18 x 20 inch
1 in stock
Description
Additional information
ARTIST
Reviews (0)
Store Polices
Inquiries
Description
Additional information
| | |
| --- | --- |
| Weight | 0.5 kg |
| Dimensions | 45.72 x 50.80 cm |
| Time Required to Ship(in days) | 10 |
| Which medium is used? | Acrylic on Canvas |
Alka Singh Sengar
Alka Sing from new delhi studied Bachelors of Arts from B.R Ambedkar University, Agra , UP in 2000, Certificate Course from National Modern Art Gallery, Delhi  and Certificate Course from Roopchand Fine Arts Institute, Delhi in 2017, : Live Study Course at National Modern Art Gallery, Jaipur House , Delhi in 2019.   I've been called by many names like perfectionist, difficult and obsessive. I think it takes obsession, takes searching for the details for any artist to be good. I am a spiritual woman, nature lover, fitness enthusiast, guitar player, mediator and an art lover. My passion is very much visible in my art work. I do acrylic, oil, freestyle, sketching & charcoal art. I have been take part in many exhibitions solo & Group in Bhutan, New Delhi, Mumbai, Jaipur etc as follow.
June 2019: Art Camp & workshop at Russian  Art & Cultural Centre , New Delhi
April , 2019 : Summer show at Art Junction Lalit Hotel , New Delhi
March ,2019 : Group show at Arpana Kaur Art Gallery , New Delhi
Feb, 2019 : Group show at Maurya Shereton Saket , New Delhi
Jan,2019 : Solo show at convention Centre Indian Habitat Centre
Oct, 2018: Indian Art Festival Tayagraj Stadium New Delhi
June, 2018: Genesis AIFSC New Delhi
Feb, 2018: International Kala Mela by Lalit Kala Akademi, New Delhi
Jan, 2018: Art Kala Mahotsav, Jaipur
Dec, 2017: Jaipur Art Fiesta
Oct, 2017:   Gandhi Art Gallery
Sep, 2017:   KalaShandar Art Fair, Mumbai
Sep, 2017:   IG Art and Cultural Center
Sep, 2017:   AIFSC Center, Delhi
Sep, 2017:   Aroma Arts, Bhutan
Aug, 2017:   Impart Art Gallery
Jul, 2017:    Impart Art Gallery
Jun, 2017:   Live Painting at Yog Shala at Pragati Maidaan, Delhi
May, 2017:  Artizon Art Gallery
Mar, 2017:  Paridhi Art Gallery
Feb, 2017:   Lokayta Art Gallery
Nov, 2016:  Global Art Fair
Sep, 2016:   Roopchand Art Gallery
Cancellation / Return / Exchange Policy
Cancellation Policy
You can raise a cancellation request for your order within 2 hours of placing your order. We would not be able to cater to cancellation request raised post 2 hours of ordering. In exceptional cases where we have not started the work on your artwork, we might still cancel your order on request beyond 2 hours. Please contact us in this case.
General Returns Policy
Paintings/any arts are returnable within the applicable return window if you've received them in a condition that is physically damaged, has missing parts or accessories, defective or different from their description on the product detail page on artsutra.co.in
If you report an issue at artist@artsutra.co.in a resolution will be provided based on the actual evaluation report.
Return will be processed only if:
it is determined that the Painting/any art was not damaged while in your possession;
the Painting/any art is not different from what was shipped to you;
the Painting/any art is returned in original condition only.
Painting/any art may not be eligible for return in some cases, including cases of buyer's remorse such as different colours shades and tones of painting ordered or different painting ordered.
Painting/any art marked as "non-returnable" on the product detail page cannot be returned.
Additional information is not required to return an eligible order unless otherwise noted in the category specific policy.
Note: If you've received a non-returnable painting/ any art in a damaged/defective condition, you can contact us within 24 hours from the delivery of the painting/any art.
Seller Return Policy
you are ordering through our website artsutra.co.in, artist that fulfil and ship its own inventory (also called a seller), In case of return, you need to update within 24 hours after receipt of the delivery. your return is sent back to the seller instead of Artsutra Creations LLP.
Sellers must either provide a return address within the India, provide a prepaid return label, or offer a full refund without requesting the item be returned. If a seller does not offer these methods to return your items, you may file an A-to-z Guarantee claim to seek help with your return.
General Inquiries
There are no inquiries yet.