Abstract Paintings & Artworks9118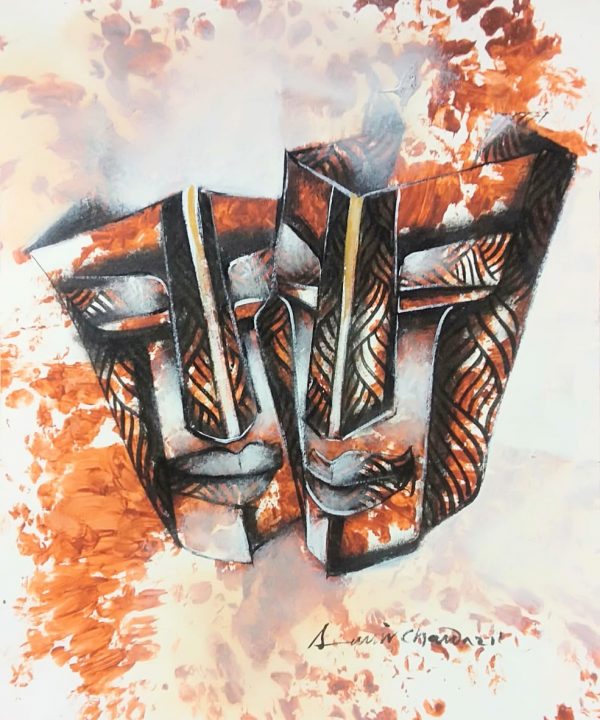 Lovely Face – 2
₹5,000.00
Acrylic on board (without frame) 12 x 12 inch
1 in stock
Description
Additional information
ARTIST
Reviews (0)
Store Polices
Inquiries
Description
Additional information
| | |
| --- | --- |
| Weight | 0.3 kg |
| Dimensions | 30.48 x 30.48 cm |
| Time Required to Ship(in days) | 10 |
| Which medium is used? | Acrylic on Canvas |
SamirChanda
I am Samir Chandra, a professional artist. I do all kinds of work-related to painting. Painting is my main job. I was born in 1980 in Tollygunge, Kolkata. I have been addicted to drawing and painting since childhood. I am still immersed in the world of painting. In a word, drawing, painting is my passion and I can't spend a moment without painting. In a word, painting is my food for survival. From a young age, my drawing background and base were floors and walls. On the floor and on the wall, I used to scribble with chalk and color pencils, So my parents admitted me to another art school and from there my art life started. After passing secondary education, I got a chance at a renowned college in Kolkata Government Art College and from there I passed the BVA and MVA one by one. I passed MVA from there in 2007 and during my student time in college, I earned special certificates of merit and awards. After college life began to enter the world of painting alone. At that time there were a lot of exhibition workshops and freelance work going on. Then I joined Emami Company in Kolkata as a graphic designer. I worked there for many years and gradually my acquaintance started and I became an artist in the art world. Along with my working life, from then on I started special attention to my own painting. One of the most valuable awards and exhibitions I received at the time was Mukulda Shepherd. This is how I got involved in painting in the present life. Currently I am deeply involved in painting and painting is my life.  I have participated in many exhibitions, solo shows, and many more as follows.
AWARD
Mukul Dey  Award from Govt. college of art & craft in the year 2002
Exhibition Participation
• Annual Exhibition of Govt. college of art & craft(2000-2006)
• Annual Exhibition of Oriental Society of art, Kolkata (2004 & 2006,2007.2017)
• Annual Exhibition of Academy of fine Arts ,Kolkata(2004, 2005, 2006, 2007 & 2008)
• Annual Exhibition of Birla Academy of Art & Culture(2005, 2008)
• Calcutta Information Centre(2005, 2007, 2008, 2017)
• 'I' with in (2007. 2009)
• Chamold Art Gallery (A 1 Art Gallery, 2005, 2006)
• Academy of Fine Arts (A 1 Art Gallery,2007,2008,2014,2016,(17,18 for Bangla Desh),
• Nirvana Art Gallery(Delhi)(2006,2007,2008 & 2009)
• I.C.C.R Kolkata (2009,2012.2016)
• Gallery Gold- 2012.2016
• Silver Arched- 2012
• India Art Festival 2020 ( Represented by Dolna Gallery ) at Mumbai – 2020
Solo Show
 Genesis Art Gallery in the year of 2006
Academy of Fine Arts (2011,2012)
 Workshop 
 G.O. V. T. college of art & craft (2005,2007)
 G.O. V. T. college of art & craft(N .B .T ,2005)
 Kakurgachi 1 no. Gram Ponchayet,2007
Art Mela (SRISHTI,Kolkata,2010,2011)
T.C Soner Bangla Hotel 2014
Interior Fair 2020 Organised by ABID ( 22nd January 2020 )
ABIT Art Workshop 2020
Cancellation / Return / Exchange Policy
Cancellation Policy
You can raise a cancellation request for your order within 2 hours of placing your order. We would not be able to cater to cancellation request raised post 2 hours of ordering. In exceptional cases where we have not started the work on your artwork, we might still cancel your order on request beyond 2 hours. Please contact us in this case.
General Returns Policy
Paintings/any arts are returnable within the applicable return window if you've received them in a condition that is physically damaged, has missing parts or accessories, defective or different from their description on the product detail page on artsutra.co.in
If you report an issue at artist@artsutra.co.in a resolution will be provided based on the actual evaluation report.
Return will be processed only if:
it is determined that the Painting/any art was not damaged while in your possession;
the Painting/any art is not different from what was shipped to you;
the Painting/any art is returned in original condition only.
Painting/any art may not be eligible for return in some cases, including cases of buyer's remorse such as different colours shades and tones of painting ordered or different painting ordered.
Painting/any art marked as "non-returnable" on the product detail page cannot be returned.
Additional information is not required to return an eligible order unless otherwise noted in the category specific policy.
Note: If you've received a non-returnable painting/ any art in a damaged/defective condition, you can contact us within 24 hours from the delivery of the painting/any art.
Seller Return Policy
you are ordering through our website artsutra.co.in, artist that fulfill and ship its own inventory (also called a seller), In case of return, you need to update within 24 hours after receipt of the delivery. your return is sent back to the seller instead of Artsutra Creations LLP.
Sellers must either provide a return address within India, provide a prepaid return label, or offer a full refund without requesting the item be returned. If a seller does not offer these methods to return your items, you may file an A-to-z Guarantee claim to seek help with your return.
General Inquiries
There are no inquiries yet.