Abstract Paintings & Artworks6058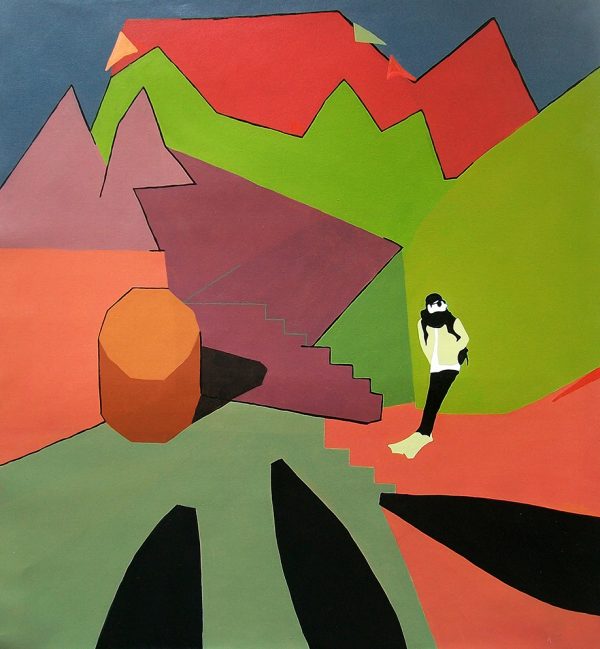 Varanasi
₹40,000.00
Acrylic on canvas (without frame) 32 x 36 inch
1 in stock
Description
Additional information
ARTIST
Reviews (0)
Store Polices
Inquiries
Description
Its a painting on Varanasi in an abstract as well as pop style. With more solid colors covering spaces on the canvas surface. Bold colors are used to represents Varanasi cities, Ghats oldness.
Additional information
| | |
| --- | --- |
| Weight | 0.5 kg |
| Dimensions | 81.28 x 91.44 cm |
| Time Required to Ship(in days) | 10 |
| Which medium is used? | Acrylic on Canvas |
Prasanta Acharjee
Prasanta Acharjee an abstract artist from Kolkata, India studied in Diploma in paintings from Indian Society of Oriental Arts and practicing since 1997. In my works there is a quest for the absolute, a higher meaning, in which art is seen as a manifestation of universal laws rather than mere individualistic expression. These highly refined and elegant visual arrangements express certain physical and psychological dualities in a manner which is both magical and alchemic and achieved using a perfect balance of opposing elements: dark and light; masculine and feminine; modern and traditional. They convey a sense of infinity and totality, one in which the visual protagonists convey powerful poetic, spiritual and universal ideas.
These works appear serendipitous but are done painstakingly. The gestures are akin to signatures and derive partly from a fine sense of draughtsmanship although it is folly to try to attribute specific meanings to them. Some are chimeras, ghosts within the image which seduce and entice the viewer. There is, however, no repetition in the works; instead, there is great diversity in their form, gesture, tempo, cadence and colour. Fundamentally, these are essays in freedom and rhythm. One can formulate several dialectics in these paintings. There is expansiveness as well as a sense of containment; fiery introspection as well as a cool and clear-eyed observation of the world. Some of the works are so vivid that they appear to be alive, lines dancing on the pictorial surface, leading the eye into mysterious and wonderful places. These paintings are less about conflicts and more about resolutions within the paradigms of abstraction, figuration and colour.
Apart from that won many many Awards, participated in many Group shows, Solo Exhibition, Art camps as follow.
Participations :
Group show on Frida Kahlo, curated by Gallery Art Exposure, Kolkata Jule 2018
Solo Show at Tejas Art Gallery, Kolkata 2015 – curated by the Tejas Art Gallery
Solo Show at Shrimati Art Gallery, Kolkata 2012 – curated by Anirudh Chari
Solo show at Gallery Picture Perfect at Gurgaon in 2001
Two man show at Gurgaon in 2001
2nd Friendship Art Exhibition in Dhaka, Bangladesh 2009
Expressions East and West, Group show at Islington Art Factory, London September 2011
Group show at Blue Art Gallery, Delhi 2012
Group show at Art Value Gallery, Delhi 2012
5 Group shows by "IMAGINATION" at Academy of Fine Arts ('98-'01) & Gorky Sadan '04
1 Group show by " RAPPORT" at Indian Museum Hall' in 2003
8 Group shows by "Expression" at Calcutta Information Centre, 2005, G. C. Laha Fine arts Gallery, 2006, Bangladesh High Commission, 2007, Gallery'79, 2007, Academy of Fine Arts, 2007,
Birla Academy of Art & Culture, 2009, 2011, Renaissance Art Galerie 2011
5 Group shows by " KOLPO"
Exhibition of Paintings by INFAC at Academy of Fine Arts,
"Durga" Exhibition of Paintings at Spectrum Art Gallery, 2008
"Symphony in Art & Music" Exhibition organised by ArtBorderLine, London – 2009
Exh at ICCR, Kolkata – organised by art4u, 2009
"Durga" Exhibition of Paintings at Bimal Mitra Art Gallery, 2011
"Ganesh" Exhibition of Paintings at Artist Circle Art Gallery, 2011
Participated in all major Annual exhibitions of Paintings in Kolkata
NIV Saturday Show, at NIV Art Centre, Delhi. December 2013
Awards :
Lilavati K. Shah Memorial Medal, All India Annual Exhibition of Indian Society of Oriental Art 1997
Santosh Kumar Chongdar Memorial Medal, All India Annual Exhibition of Indian Society of Oriental Art 1999
Art Camps :
Art Camp in Dhanbad, organized by Forest Department, 2008, 2009, 2010
Art Camp in Kolkata, organized by INFAC, 2008
Art Camp at Balasore Art College, 2010
Collection : DLF – Delhi, Alliance Francis Du Bengal – Calcutta, Gurgaon, Delhi, Singapore, USA, London, Brazil
Cancellation / Return / Exchange Policy
Cancellation Policy
You can raise a cancellation request for your order within 2 hours of placing your order. We would not be able to cater to cancellation request raised post 2 hours of ordering. In exceptional cases where we have not started the work on your artwork, we might still cancel your order on request beyond 2 hours. Please contact us in this case.
General Returns Policy
Paintings/any arts are returnable within the applicable return window if you've received them in a condition that is physically damaged, has missing parts or accessories, defective or different from their description on the product detail page on artsutra.co.in
If you report an issue at artist@artsutra.co.in a resolution will be provided based on the actual evaluation report.
Return will be processed only if:
it is determined that the Painting/any art was not damaged while in your possession;
the Painting/any art is not different from what was shipped to you;
the Painting/any art is returned in original condition only.
Painting/any art may not be eligible for return in some cases, including cases of buyer's remorse such as different colours shades and tones of painting ordered or different painting ordered.
Painting/any art marked as "non-returnable" on the product detail page cannot be returned.
Additional information is not required to return an eligible order unless otherwise noted in the category specific policy.
Note: If you've received a non-returnable painting/ any art in a damaged/defective condition, you can contact us within 24 hours from the delivery of the painting/any art.
Seller Return Policy
you are ordering through our website artsutra.co.in, artist that fulfill and ship its own inventory (also called a seller), In case of return, you need to update within 24 hours after receipt of the delivery. your return is sent back to the seller instead of Artsutra Creations LLP.
Sellers must either provide a return address within the India, provide a prepaid return label, or offer a full refund without requesting the item be returned. If a seller does not offer these methods to return your items, you may file an A-to-z Guarantee claim to seek help with your return.
General Inquiries
There are no inquiries yet.